School is out, time for a Chocolaterie fix!
The sweetest holiday destination 
What's on your school holiday agenda?
If free tastings, chocolate making, amazing desserts and acres to burn off holiday energy sounds like fun, then make a date to join us at our Yarra Valley, Great Ocean Road and Mornington Peninsula Chocolateries.
We're open 9-5pm every day of the school holidays, with choc loads of ways to ensure the whole family enjoys their day out. Read on for some sweet ideas…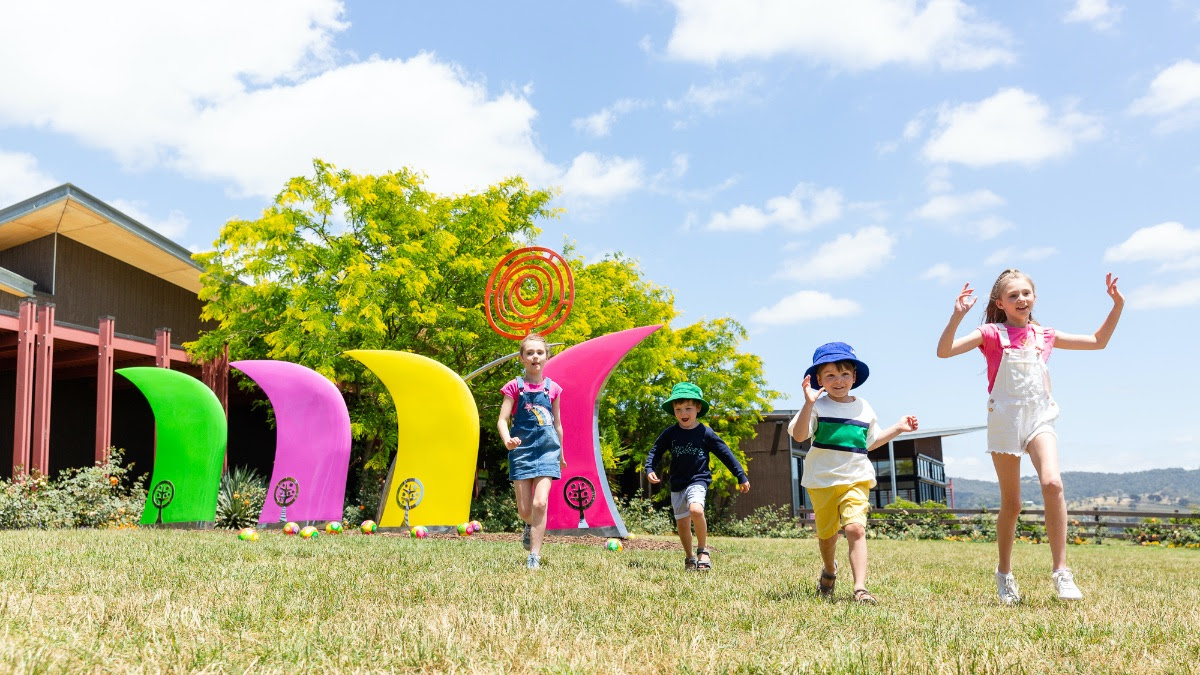 Enjoy our new ChocBerry Creamalicous sensation! 
Ride the choc-berry wave with our indulgent twist on the classic strawberry, chocolate and ice cream combination.
Our new ChocBerry Creamalicious Bowls have arrived just in time for the school holidays. Filled with juicy locally sourced strawberries, smothered in your choice of milk, dark or white couverture chocolate, then topped with a generous serve of silky soft-serve vanilla gelato – you can also opt for a scoop of one of our famous housemade ice cream flavours too.
Whatever way you choose to indulge, we highly recommend enjoying yours in the beautiful landscaped grounds of our Yarra Valley and Great Ocean Road Chocolateries, or while you stroll through the seaside village of Flinders.
Our ChocBerry Creamalicious Bowls are here to tempt you all Spring long, don't miss trying one – $14.50.
Last places in the sweetest classroom
School is out, but Junior Chocolatier Classes are in!
Our popular School Holiday program of hands on classes for children ages 6-12 are nearly sold out. Be sure to snap up the last remaining spots where participants will make three of their very own creations to take home plus receive a Chefs hat, name badge, apron and graduation certificate. $40 per child. Bookings a must.
Look out for our new Junior Pastry Chef Classes at our Yarra Valley destination too, perfect for your budding young master-chefs.
Book School Holiday Classes at Mornington Peninsula Chocolaterie
Book School Holiday Classes at Great Ocean Road Chocolaterie
Book School Holiday Classes at Yarra Valley Chocolaterie
Take a moment to indulge 
Our talented Pastry Chefs at the Yarra Valley and Great Ocean Road Chocolateries will make sure parents and grandparents can treat themselves while the kids run, play and discover the delights at the Chocolaterie.
From their daily selection of tarts, tortes, gateaux, cakes and pastries to the best ever scones – served with barista brewed coffee, one of our famous hot chocolates or a pot of organic leaf tea – the temptations are too good to ignore. Look out for the Dessert Tasting Plates to share with fellow sweet tooths, best enjoyed with a Yarra Valley view or landscaped Great Ocean Road outlook.
Chocolaterie activities at home…
Can't make it to the Chocolateries this school holidays?
Let some of our indulgent fun come to your door with our DIY Kits to get the kids making, baking and creating.
Hop online to order from our line up of creative do-it-yourself kits that come with all the ingredients to make our Best Ever Brownies, Make and Decorate Chocolate Farm Animals or Giant Lollipops and even enjoy a Fondue. Our much loved Junior Fondue Sets are perfect for creating your own Chocolaterie-style afternoon tea party at home.
Order DIY Kits from Mornington Peninsula Chocolaterie
Order DIY Kits from Great Ocean Road Chocolaterie
Order DIY Kits from Yarra Valley Chocolaterie
Our whole team (including our farm animals!) look forward to creating some sweet memories these school holidays. See you at our chocolate wonderlands soon!
Leanne & Ian Neeland