Egg-citing news!
Our 2023 Easter Collection has landed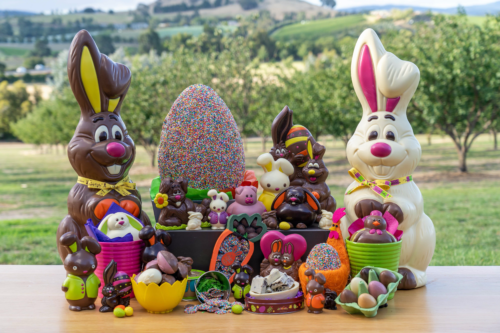 Our 2023 Easter Collection has arrived at our Chocolateries on the Great Ocean Road,
in the Yarra Valley and Mornington Peninsula – and we can't wait for you to see what our
talented Chocolatiers have created.

Our showrooms are now choc-o-block full of handcrafted Easter gifts for you to discover,
here's a sneak peek at what's in store…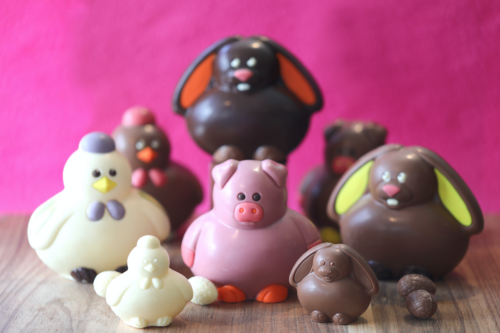 Look out for a delectable line up of Easter creations when you visit from the teeny tiny to giant sized.
There's a whole range of eggs that are infused, hand painted and even dinosaur in scale;
a divine family of whimsical chocolate characters almost too cute to eat,
extra clever bunnies all set to go surfing, plus some that stand 65cm high.
And we also have a delectable Vegan collection too so no chocolate lover misses out!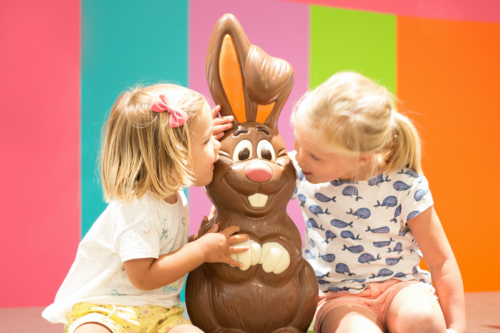 Easter eggs go to a whole new level this year with our Loaded Easter Eggs
for the most colourful and decadent Easter gifting.
Or get egg-cited for a carton of half dozen eggs like no other – our classic egg cartons come with a
Chocolaterie twist, choc-filled with handcrafted eggs in milk, white, dark,
ruby, caramelised white and even polka dot covered!

Also bursting with Easter cheer is new Easter bark for gourmet gift giving,
special Easter edition 1kg Rocky Road Blocks, as well as Great Wall of Chocolate gift packs
filled with Kids Eggstravaganza; Easter Caramel Overload and Neapolitan Easter.
And don't forget, our team will more than happily create your very own Easter Hamper too
for your friends, family or work colleagues.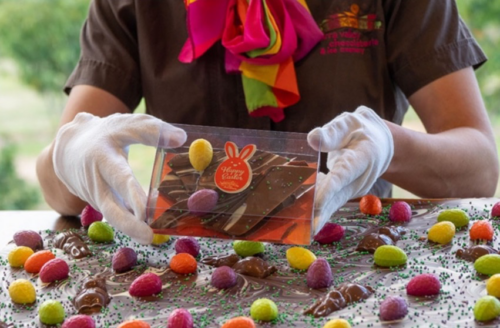 Our signature bunnies are back…
Of course, no Chocolaterie Easter is complete without our signature bunny family of
Hoppy, Poppy and Floppy. Available exclusively from the Chocolateries,
you'll find our gorgeous couverture bunnies dressed to
impress and ready to treat chocolate lovers of all ages this Easter!
Can't make it to the Chocolaterie?
Happily our e-stores are bursting with a selection of handcrafted Easter creations
you can order online and have sent to your friends and family across Australia.

Packaged with care and couriered to you for a flat fee of $15 anywhere Australia.
Hop to it!

Shop online at Great Ocean Road Chocolaterie 

Shop online at Yarra Valley Chocolaterie 

Shop online at Mornington Peninsula Chocolaterie

Easter is our favourite occasion to bring our love of chocolate and creativity to life –
and what better time to give a locally made gift.
See you soon at the Chocolaterie and stay tuned for more Easter fun we're planning…

Ian & Leanne Neeland