Welcome back chocolate lovers
from near and far! 

We're so excited to be welcoming our entire community back to our petite Chocolaterie on the Mornington Peninsula from this extra long weekend.
Our Chocolatiers have handcrafted a wonderland of every truffle and chocolate imaginable, our 2021 Christmas Collection is ready to discover, our Brownie & Macaron Bar is brimming with delights, new artisan gelato flavours are churning plus our neighbouring galleries, boutiques and cafes in our lovely seaside village of Flinders are open once more too!
Enjoy getting out and about exploring far and wide once again with your family and friends, our team can't wait to treat you every day, 9-5pm.
It's looking a lot like Christmas!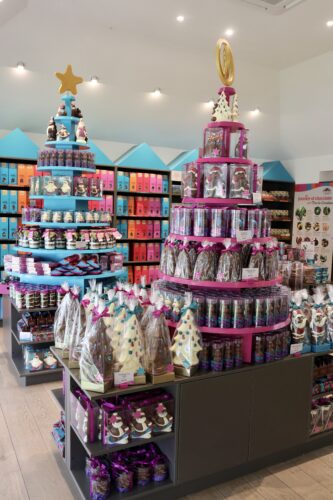 Just in time to welcome back chocolate lovers of all ages, you'll be amazed at our 2021 Christmas Collection on display in our petite Chocolaterie.

From bon bons and baubles, handcrafted chocolate Santas, Christmas Trees, reindeer, angels and snowmen, collectible tins with choc-coated delights, festive edition nougat, rocky road, gourmet blocks and bars, beautiful Belgian style biscuits and choc loads more, you'll  find hundreds of different gorgeous locally made gifts to ensure we're a must-do stop on your Mornington Peninsula outing. …

And if you can't wait to get your Christmas shopping started, our Collection is available to order online, including our famous 12 Days of Christmas Chocolate Advent Calendar, create your own Ginger Bread House Making Kits,
deluxe hampers and Christmas edition Brownies in a Jar. We carefully wrap and send your selections in divine Chocolaterie gift boxes to you or your loved ones Australia wide.

The Peninsula's sweetest pit stop

Will you drop in for divine handcrafted truffles made by our talented Chocolatiers or to treat yourself to a classic chocolate creation with a Chocolaterie twist?  Or will you grab a best-ever-brownie from our Brownie Bar or a delectable macaron made in an array of tempting flavours?
Perhaps an old fashioned milkshake, a real hot chocolate or coffee — or better yet, a scoop or two of our freshly churned artisan gelato and sorbets, perfect to enjoy as you take a leisurely stroll in the sunshine.
We're so looking forward to welcoming you back through our doors once more to share our passion for all things hand crafted and decadent with
you and your loved ones.
See you soon!
Ian & Leanne Neeland